It's been a little more than a year since we've been back to the Piney Woods. It's also been well over a year since I've had any time off, so we decided to pack up the crew and head to Longview.

Two kids, two dogs 5 hours…now that's good times.
We did survive the trip, and what a homecoming it was.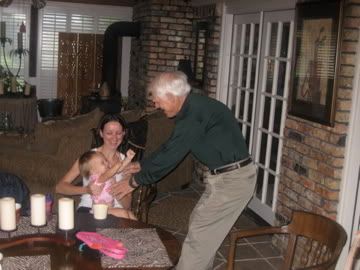 Definitely didn't take long for Little Miss MK to warm up to PaPa.
Nana Connie got in on the action as well.

One of the highlights was golf with PaPa. As you know from the previous posts, CB has been quite the golfer lately, and golf with PaPa…well that's a whole other experience altogether.


This girl is all about the excitement. PaPa is very encouraging to say the least, and has taught CB the importance of the high-five. Needless to say it took us about 3 hours to get through a small stack of balls. Check out the video below.
[vodpod id=ExternalVideo.368548&w=425&h=350&fv=]
You don't even want to see what happened when she actually made one.
I would post some more, but CB has assured me that she wants to do some more narration for an upcoming post. Should be interesting…