CB's new Official Saying.  What a fantastic weekend.  BU Homecoming… We did it all.  Bonfire, extravaganza, the parade, tailgate festivities, and not to mention catching up with some old friends.  Needless to say, CB is now a Bear for life.

In conjunction with the Bonfire, BU has set up all kinds of activities for the kids.

At the peak of the slide.  CB at first wanted nothing to do with this, but then after learning Daddy could go with her, she was pumped.  We made it all the way to the top, at which point she turns to me and says, "Bye Daddy.  I do it all by myself"  And then she's gone…that's my girl.

Great Bonfire pic, with classic CB pose.
"The Twins" Theta Beauties – Pledge Class 2025

The next morning and the parade.  All the great floats to see, and flying candy.  CB could not believe a place like this even existed…

CB making sure Maddy and Shane are enjoying all the Parade festivities.

Catching up with old friends, the best part of the weekend. 
Enter "GD"- big time Baylor Alum, Theta, and proud parent of "GB"


"Remember the black dear, Remember the Gold"
Come on girls, you honestly didn't think there was anyway that this one was not going on the blog.
Gretchen's son, Graham, and CB hit it off.  Graham was practicing for the big game a few years down the road.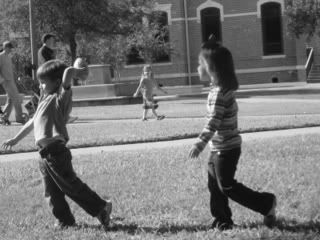 Now this next one…I'm going to have to copyright before BU steals the image for its Freshman class of 2023 brochure.


Priceless…
For more Graham goodness, as well as the whole Braunstein clan, be sure and check out www.aggbraunstein.blogspot.com
All in all, a perfect weekend, culminating with a Baylor fourth quarter comeback. 
That campus holds a lot of special memories, and wandering the grounds now with a wife and 2 kids in tow it's hard to believe that it's been more than 10 years since I first fell in love with a beautiful 19 year old Co-ed and convinced her to come along for the ride…and what a ride it's been.