It was a reunion of sorts for Al this past weekend.  Getting together with some Theta's that she hadn't seen in over 10 years.  I won't harp on how long it's been since her college days, she's sensitive about that, and seeing how she's much older than I am, it's probably best to leave it alone.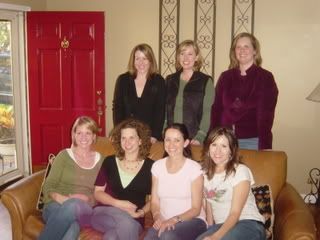 Group picture.  OK, I'll admit GD was right.  Pictures from multiple cameras at once, might not have been the best idea.  But everyone looking straight ahead and smiling at one camera, that's so 20 years ago.  It's time for a fresh perspective.
I know Al had a blast, as well as CB.  She's pumped about the next trip to Graham's, and speaking of the next trip.  I'm taking the liberty of using this post to begin my online petition for the 2007 event. 
It's abundantly clear that Spears was not in attendance, and as great as the event was, it was lacking as a result.  Therefore, it's up to the online community to "Keep Hope Alive" and see what you can do about next year.
 As a final note, there was some serious gossip flying around this event, and Al seems to think I was involved in that.  Clearly untrue.  As a man, I am unable to involve myself in such things.  I was just making sure that pertinent information was passed along to the right people, and if that information pertained to people who were not in attendance and may or may not have been involved in scandalous events…well that's merely a coincidence.  Gossip?  I think not.