The weekend after Thanksgiving.  That's always the goal for putting up the Christmas decorations, and strangely enough, this year it actually happened.  Probably from all the assistance I was receiving.
A girl after my own heart, CB found a way to decorate the tree and never leave the comfort of her own couch.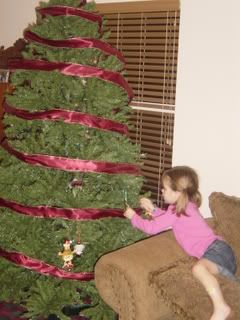 Al had some specific decorating "tips" for CB when it came to tree ornaments.  Actually the same tips I've been hearing for years.  "Space them out.  You've got to distribute the ornaments."  Al has always accused me of clumping the tree ornaments, and once again, it appears that it might be a genetic condition.
I guess the spot on the couch was just too sweet to move.
This picture says it all… CB and "Oh the Drama of Christmas!"  While MK is keeping a close eye on something in the corner of the room that just might be edible.
The finishing touches…