This time of year you can turn on almost any media outlet and hear people decrying the commercialization of Christmas, and asking what is the true meaning of Christmas.  Personally, I could be sleeping at a manger in Bethlehem with Donner and Blitzen soaring overhead, and there's a good chance I still wouldn't be in the Christmas spirit.
For me, it's not about the cards, or presents, or decorations.  None of that matters.  Nope, for me it's all about one thing, and it's been that way for as long as I can remember.
And last night, it finally happened.  Sitting on the couch with my girls, the Christmas Season arrived.  All it took was hearing one little boy, albeit wise beyond his years, reading from the second chapter of Luke:
And, lo, the angel of the Lord came upon them, and the glory of the Lord shone round about them: and they were sore afraid. And the angel said unto them, Fear not: for, behold, I bring you good tidings of great joy, which shall be to all people.   
For unto you is born this day in the city of David a Saviour, which is Christ the Lord.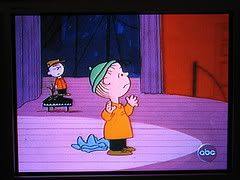 Whenever you hear Linus telling the Story of Christmas, that my friends, is what it's all about…