We had a wonderful Christmas this year.  It was the first time, in a long time, that we haven't had to travel on Christmas day.  This was an added bonus, as CB was more than concerned with Santa's travel plans.
I don't want to hear about your aching back and knees.  There's no organized labor at this North Pole…
The puppet theater was the big Santa gift of the year.  CB was pumped, and I now know what I'll be doing for the next year.  My first script featured a young man from a small town who was on a journey to find himself, and wound up in the battlefields of WWII.  However, I think something was lost in the translation.  Either that or the fact that I was working with a 3 yr old, a monkey and a mermaid…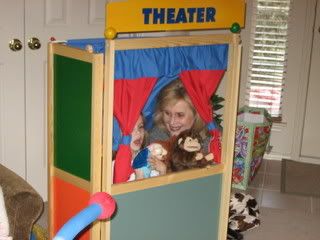 One of the other big hits was an indoor trampoline.  Thank the Lord for Billy.  Between the two of us, we have the equivalent of numerous PHD's in engineering from MIT, but this trampoline was a monster.  Luckily, with no help from the instructions we managed to get it together.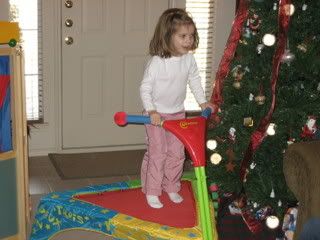 Unfortunately, we might have done too good a job.  Everything works perfectlly, including the speaker that screams in 4 different languages, and one constant volume, everytime CB bounces.
One last picture I had to share.  CB's favorite stocking stuffer are her "Oobi" eyes.  Any of you with small children will probably recognize these.  If you don't, then consider yourself lucky…they creep me out.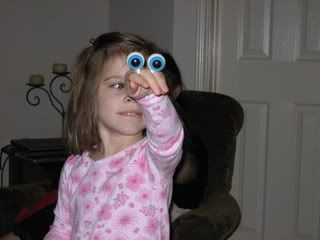 Not to be left out, MK had a wonderful Christmas morning as well.  Her favorite part…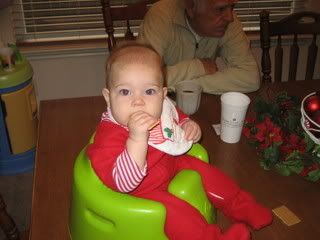 Christmas Breakfast!