Ahh, the differences between the two.  With our first child, the mealtime discussion went something like this…
"But she's not officially six months yet until next week.   Should we introduce that type of food so soon?"
"No, No I have to wait 3 days before I can giver her the next type of baby food."
"Either way, the kid's still screaming."
Now Little Miss MK comes along and oh, how things have changed.
"All she does is cry all through dinner."
"She's probably hungry."
"What should I give her?"
"What are we eating?"
"Lasagna."
"Give her lasagna."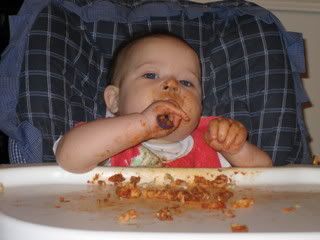 An hour later, we still haven't heard a peep from the little princess.  In fact, I can't remember her ever being this happy.  Now, if we can just keep CB away with the beach towel and water hose.