During Christmas we tried to take the girls to see the what passes for Christmas lights in Austin.  We didn't make it.  But CB wasn't so disappointed at missing the lights, no, she was pumped because we told her that we would have to ride a bus to shuttle us to Zilker Park.
Fast forward a few weeks, and CB being CB, she still hasn't forgotten about the bus.  So, on one of their Friday lunch trips to see daddy, I promised CB we would get on a REAL city bus.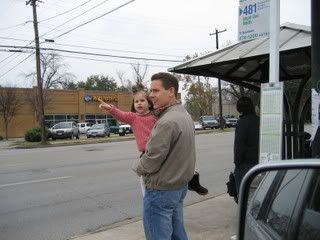 CB was letting everyone at the stop know that this was our bus, and look out, IT'S COMING!!!
I thought it would be a great experience if we took the bus down the drag, and boy was it ever.


This was the last chance at normalcy CB ever had. 
Let's see, there was the homeless woman that sat in front of us who hadn't eaten in three days, which might have been a good thing since her kidney's were failing anyway.  How do you know all this you might ask…because she wouldn't stop talking the entire trip, and CB was pumping her for info as well.
And then there was a cute UT co-ed that CB struck up a conversation with after telling her that she was going to go to school at UT…but only if Daddy rode the bus with her.
Throw in some random bus regulars, and a few Drag natives that were certainly feeling no pain, and it made for one great experience.  CB cannot wait to go back.