I am really getting spoiled.  It's not every man that gets a regular Friday lunch date with 3 beautiful women.  Al and the girls have been making a regular Friday outing to Austin for lunch with Daddy.  This past Friday was so gorgeous, it had to be an outdoor lunch.
And when you're talking outdoor Austin, you've got to be talking about Shady Grove – a personal favorite…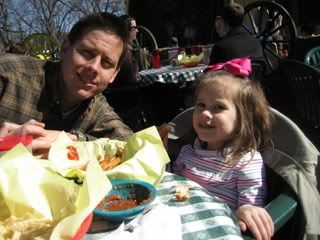 The Hippie Chick is always a good call…as my empty basket and stuffed grill can attest to.
While the weather was perfect and the food was terrific, there is always one nagging problem…


The paparazzi around here are awful!!!!