Saturday was one of those days that has got to make those poor people in the northern parts of the US just absolutely miserable.  Last week of January with 70 degrees and sunshine…gotta get outside.


We spent all day at the park, and made a great new discovery as well.  There's a gorgeous park within a mile of our house with an incredible train ride.  If Leigh is reading this, we'll go ahead and pencil you in for a trip next week.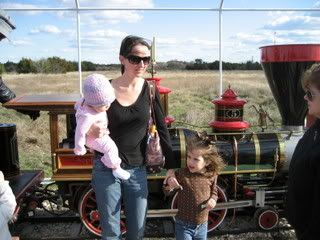 A "steam" engine that takes you on a 15 minute cruise around the park.  We're talking through the forest, and through a real tunnel. 


I know CB enjoyed it, but Little Sis was having a good time as well.


I know we're in the Austin area and should be more open to these kinds of things, but I still just don't know.  There was one "couple" on the train in front of us that was, well, a little odd.  I felt like Peppermint Patty always asking about that strange looking kid with the big nose.


But hey, they really seemed like they were in love…