That can only mean one thing…Strawberries
"I'm taking these.  All of them.  The rest of you just back away slowly, and nobody has to get hurt."
MK lets one slip and CB jumps at the chance.
Sweet Berry Farms is the place to be.  We made the trek last year for strawberries, blackberries, potatoes, and onions.  Right now, only the strawberries are in season, so the girls ventured out by themselves.
Of course, after eating 4-5 lbs of strawberries, there's only one thing suitable to wash it down…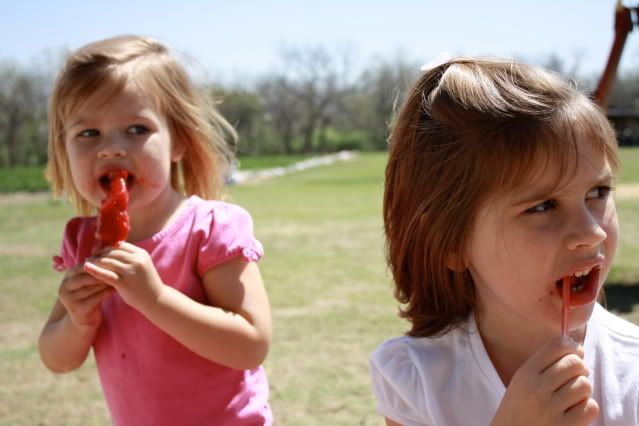 Clearly, the signs of a good meal.
The big deal last year was the picking.  There were lots of goats, horses and other animals, but the girls were a little skiddish.   This year, not so much.
I blame it on Saddle Club.  Have any of you out there seen this show?  Dear Lord, help us.  CB is hooked.  It's basically a stripped down Australian version of Melrose Place for the Tween set.  Why CB is even watching it, I have no idea, but that's another conversation entirely.
MK made other friends.
Can't say I blame her, I've always been a big fan of the goat.  Al said that MK was chasing this goat around everywhere, and at one point MK had the thing cornered until he literally jumped up on one of the picnic tables.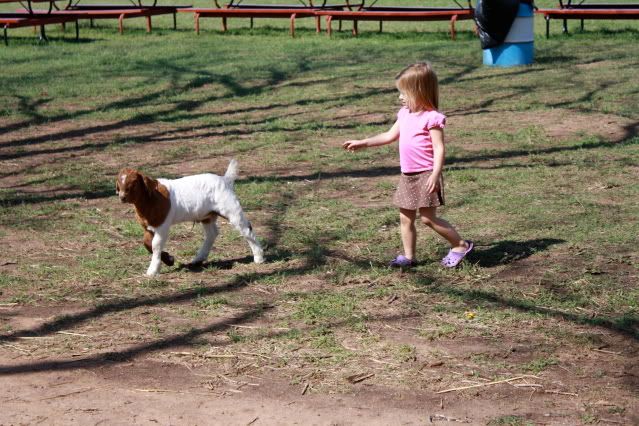 MK and I had a discussion later that night, and she assured me she was just trying to get the goat into our car.  Funny thing is, he wouldn't cooperate.  Made sense to me.
And speaking of MK, she has been on quite the tear lately.  My parents laughed and laughed when we used to complain about how stubborn and strong willed CB was as a toddler.  I never understood why anyone that raised me would think it so funny that I had a stubborn child, but I just let it go.  I've always been the bigger person, you know, I'm just saying.
Lately, Al and I have been talking about how easy CB was compared to MK…words I never thought would come out of my mouth.  I say all that to show you this.  I think it explains a lot.  MK found a certain affinity with a group of friends at the farm.