I know I've leaned on that phrase a few times on this blog before, but somehow, it's never seemed more appropriate.  The main reason the blog has been suffering as of late is because of our big move.  I do say big, because moving across the street with a suitcase with Miss CB and MK would be big, but packing and moving an entire house is reaching epic proportions.
And the house?  The girls love it.  One slight problem, although the house was new and in perfect condition, it just wasn't…pink enough.  Enter Daddy and Pa-Pa with paintbrushes in hand.
The obligatory "before" shot of Miss CB's room.  Nice solid color, good contrast, no need for "Nothin" in my opinion, and Pa Pa agreed with me as well.  But, you know this would never work in my house.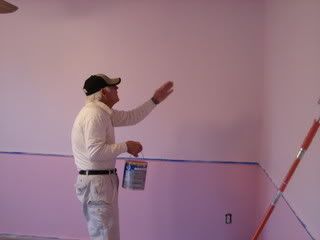 As Michaelangelo plans his next move, you can see how the room is shaping up
One thing CB is definitely learning early, from Nana and Mommy, is that men just cannot seem to work without some kind of female oversight…
Throw in another bedroom, another bathroom, and 47 short hours later, we're done.
Blush and Bashful if I've ever seen it.  The princess loves it, but she did point out one slight problem as I was putting her to bed.
"Daddy, I really like my new room, but I saw something I meant to tell you about"
"Oh no."
"My ceiling is white.  It's not pink.  You forgot"  My response? I did what any good dad would do…I punted.
"You'll have to talk to Pa Pa about that one."