You've got to have some kind of furniture to go in the new place.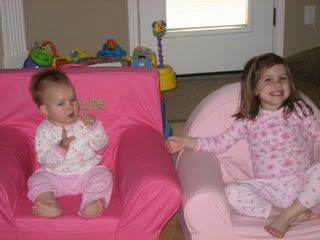 Seems appropriate.  Although big sister is not exactly thrilled with the proposition that little sister's chair is bigger and pinker!!!  CB did quickly point out that "We can share!"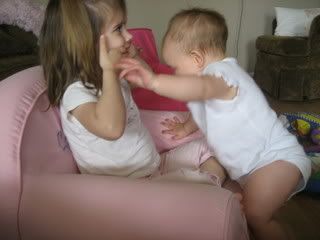 MK is taking her up on this sharing thing.
And now for one of the main reasons it's impossible to get anything done.
Little Miss "Blue Eyed Thang" is into EVERYTHING.  How an 8 month old can crawl faster than I can run is beyond me, but it happens on a daily basis.  And the bad news…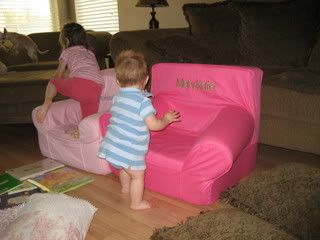 I think crawling is too slow for her tastes.  She's standing up now and attempting to sprint.  When I call Al at home I hear a lot of, "Caroline you left the door open.  Mary Kate just went in the back yard.  Wait, what?  No, you can't use Daddy's nail gun to stop her. Put that down."
I try not to call home much these days.