It's all a matter of perspective.  Al is hounding me for being way behind on the blog, but I like to think of it as a way of merely extending the Christmas cheer.
Think about it, there's all the holiday build up, the decorations, the Christmas music, the Peanut's Christmas Special.  Then Christmas morning comes, and it's all over.  Not so here.
A trip to Bethlehem.  What better way to get in the holiday mood.
Sure, you've got the Shepherds, Mary and Joseph, Baby Jesus…but the biggest hit of all was the Beep.  CB wasn't too sure about it, but MK assured everyone that, "Beep don't bite."
I've read the story of Rebecca at the well numerous times, but never realized that it involved a Hot pink, knit cap.
From Bethlehem in Burnet to Zilker Park, the Trail of Lights was the next big Christmas attraction.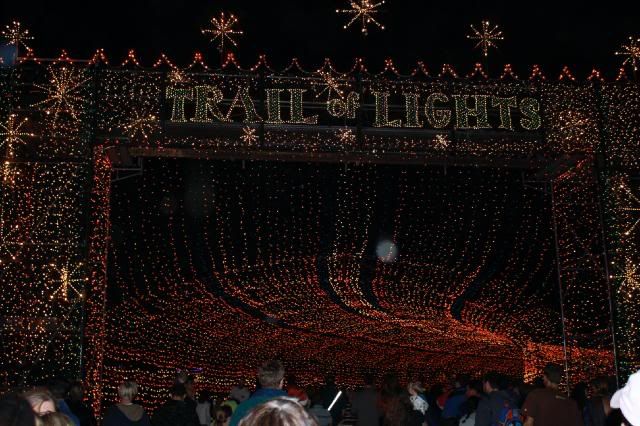 This was our first year to see the trail.  We almost made it last year, but left because of the crowds and the line to get in.
We managed to stick it out this year and actually made our way through.  Thanks in no small part to a random encounter at El Arroyo beforehand.  MK made friends with another two year old at the booth behind us, which led to Al's discussion of the Trail of Lights and whether or not it was worth it with a two year old.  A few minutes later, the husband shows up with a VIP parking pass they had used earlier in the week.  He assured us that this was the only thing that did, in fact, make it worthwhile.  We stuck it on our windshield, bypassed thousands of other cars in line, and parked a few feet from the entrance.   He was right, that was the only thing that saved the trip for me.  That, and the twirling tree…
The tradition is to stand at the base of the enormous Zilker tree and look straight up at the lights while twirling in circles.   CB got a little extra boost (Note to self – 12 lbs. of Mexican food do not mix well with the twirling tree)
All in all, a good time – MK was so thrilled she promptly fell asleep.  However, both the Burnet trip and Zilker led Al and I to an important realization.  We are not crowd people.
Sure, the Bethlehem trip was incredible, but was it worth standing in line for 2 hours?  With a 5 year old and a 2 year old – not even close.  Not to mention the fact that once you get into the city walls, there's so many people in there you can't even move.  It might be an accurate representation of a crowded middle eastern city, but I spent more time looking for the exit than the Star of David.
Same way with the Trail of Lights.  An incredible sight to behold sure, but in much the same way a cattle drive of 10,000 head of cattle is incredible…something I'd like to see from a distance.  If it involves that many people in one place, count me out.
It was a great time, and we got some good pictures.  Hopefully good enough to convince the girls that next year we can just look back at last year's pictures with some hot chocolate and a good fire.  Throw in some Smores, and I might have it sold.