And a golf course is a great place to dream.
"No, no big-sis, it's about a ball out to the left, firm."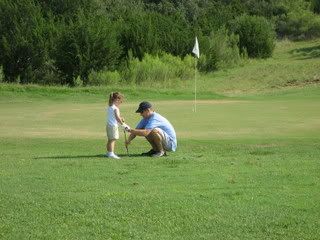 Giving lessons, an interesting proposition. Probably best summed up as the irresistible force against the immovable object. Daddy convinced CB will do it my way, and CB absolutely certain that her way is the best. Although, I think it was about this age that my dad said he quit trying to give me tips. The saga continues.
Concentration – I'm getting CB to work on this early. The one thing that drives me nuts about professional golfers, is the fact that if a camera flashes 4 fairways over it's a cardinal sin punishable by death. Not so with me. I grew up playing with older brothers that were always busy commenting on your backswing, usually about how bad your swing looked, or coughing, talking, laughing, etc…
[vodpod id=ExternalVideo.368569&w=425&h=350&fv=]
CB is learning early. Although, I think Uncle Billy may have put her up to the tap dancing bit.
All in all, a great day. Hopefully, the beginning of many good memories to come for the Havens' clan on the course. And MK learned one very important lesson. One of the most dangerous hazards on the course. Not the OB left, or the trees on the right. Nope, the one affliction that affects golfers all around the world.
Staying too long at the 19th hole.