How much I love Austin? Seriously, where else in the world can you catch Bruce "The Man" Robison at a Free concert on a Wednesday night? I love this place.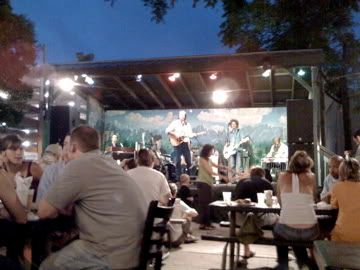 Scholz's Beer Garden. Unbelievable. If you don't know Bruce, then, well then I don't know what to say. I feel for you.
MK was as shocked as I was. "Big Brother Charlie" enjoying the show in the background.
I've seen quite a few concerts, but I'll have to admit that Scholz's has got to be one of the greatest venues around. Not five minutes after we got there CB disappeared. I think the kids outnumbered the rest of us, and CB quickly fell in with a pack.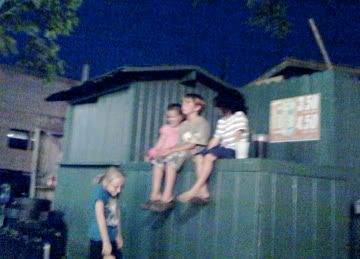 About an hour into the show, CB disappeared. Al was searching for her when I started laughing. We saw Miss CB sitting about 3 feet to the right of the stage with her buds…best seat in the house.
Sitting in the Bier Garten under the stars, kids running free, enjoying a cold Shiner, a hot Jagerschnitzel, and listening to Bruce sing about "Oma" and "Opa" I was initially worried about becoming an Austinite when Al told me I had moved way past that. She thinks I'm a full fledged German.