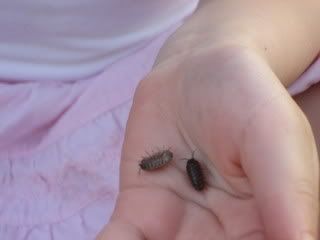 You'll never guess what girly girl has become quite interested in bugs.  Ok, the pink skirt might be a dead giveaway…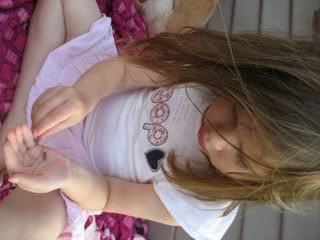 To clarify, Miss CB still can't tolerate most bugs, but she has become enthralled with hunting for "_Blank_" bugs.  And, hence, the big question.  What do you call these things – small greyish black, dig in the dirt, roll up in a ball.  Clearly, I say they're Roly-Polys – although I'm not as sure how to spell that.
Al informed me they're doodle bugs.  The neighbor chimed in with pill bugs.  I've also heard Sow bugs, but that last one was from Dad.
I always assumed everyone played with these as a kid, although I had no idea that everyone that saw one of these bugs took it upon themselves to name it.
I guess we'll just have to wait and see what CB comes up with to settle things once and for all.