I think Nana Connie has spent too much time in real estate.  She said she was bringing a "small" tent for the girls to play in.  Great.  I assumed a 3'x4′ little pup tent.  Oh no.  After several hours of assembly, we finally got the foundation poured and the walls framed on what quickly became known as the "Princess Castle"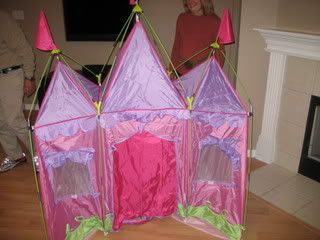 A lovely 3 bedroom 2 bath – with extra parking in the rear.  Needless to say, Miss CB loved it, and moved in quickly.
One small problem, when you've got a crib this sweet, it's only a matter of time before the guests start arriving…
MK has claimed the back bedroom, which leaves Sissy and Seve to battle over the East wing.