I know I have been slacking off with the blog lately, but I do have lots of good excuses.  It seems that blogging about life with a wife, 2 dogs, and 2 princesses would be a lot easier if I didn't have to deal with the wife the 2 dogs and the 2 princesses all the time.  But then where would the material come from?  It's a vicious circle…
Little Miss MK is into EVERYTHING!!!  She is just breaths away from full fledged walking, which is nice becuase she has falling down to an art.
It's amazing how much wiser you become with the second child.  Instead of trying to "toddler proof" the house – a futile effort if there ever was one – we've just strapped on a parachute.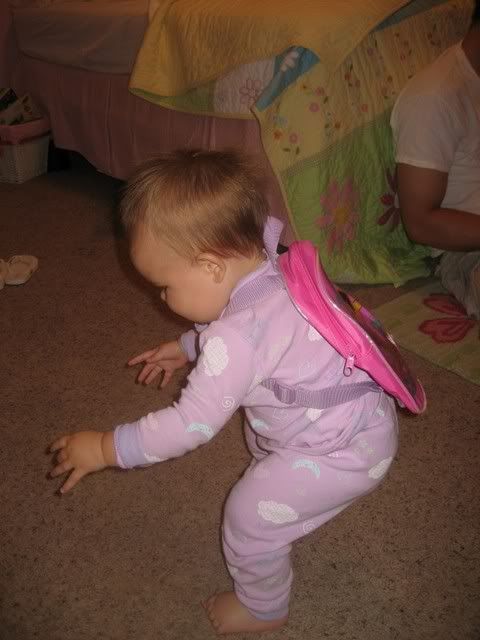 Much more effective – and she's getting pretty good at sticking the landings.
Al got some great pictures while Miss CB was away at school.  You can just see the sheer look of domination from Miss MK while big sis isn't around

My own chair, and now my own phone. No, more worrying about sharing my minutes.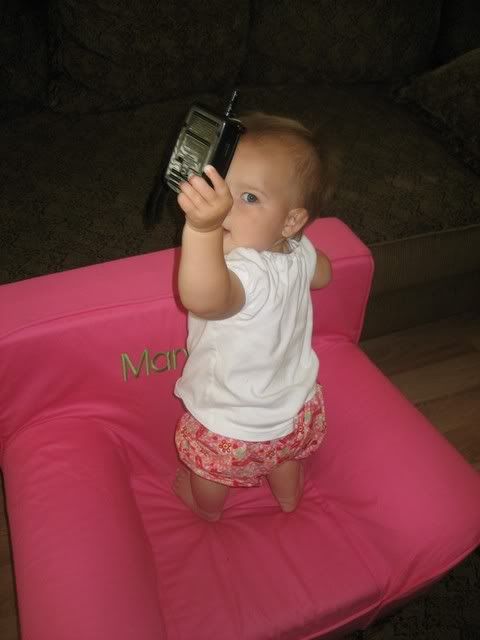 And the final piece of the puzzle… the ultimate prize.

When the cat's away…
The one downside. Total world domination can be a tiring affair as MK found out.  Good thing she has her new sleepin' buddy.