A Big "Thank You" to Aunt Erin.  Because of her, Al and I were able to have our first date in, let's see MK is 10 months old, so our first date in about a year.  And what a date it was.  We headed to the Iguana Grill – incredible Mexican food with even better views of the sunset perched high above Lake Travis.
It's a strange sensation eating a meal, actually eating a meal, without the two little ones barking orders, crying, belching, and throwing food.  We were waiting for our table enjoying adult conversation, margaritas, chips and hot sauce, and this view…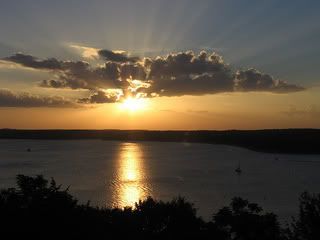 I guess we waited close to an hour to be seated.  I say I guess, because we heard grumblings from some people next to us about the wait when our name was called.  Al and I looked at each other and thought, "No!  It's not time for us to get a table yet.  We just got here!  Quit trying to rush us out the door."  Definitely a little of the "Cinderella Clock strikes twelve" action going on.
All in all, an absolutely incredible evening.  And how did Aunt Erin fair with the princesses…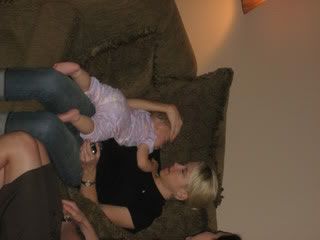 Obviously, Little Miss MK enjoyed the evening as much as we did.  And CB has already requested that Aunt Erin come back, but maybe some time when MK isn't around.