A Girl Can Never Have too Many Pa-Pa's
Last Weekend we took a trip to Hewitt, with a quick stop over in Temple.  We were able to see our good friends Lola and Allison – or as CB now calls them Pa-Pa A and "WoWa".
I was reminded by Lola that CB's problem with L's might be genetic, as in CB wasn't the first Havens' child to call her WoWa.
As you can see, CB warmed quickly to "Pa-Pa A"  They got in a little pre-dinner exercise.  Pretty impressive too, I might add, considering Pa-Pa A was flat on his back in a hospital bed the last time we saw him. Just goes to show you; can't keep a good man down.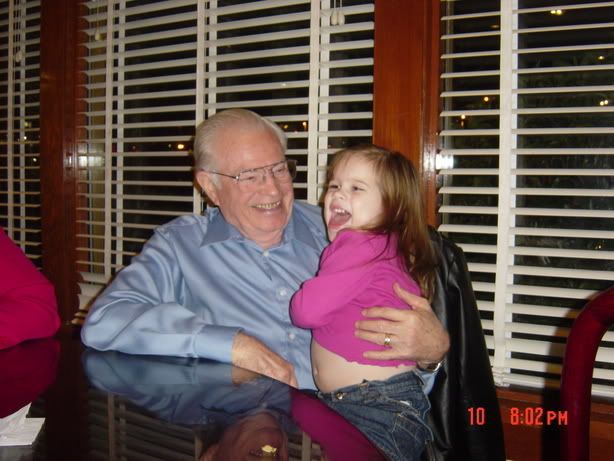 A good belly laugh at dinner!
I noticed that there were no pictures of me, Alison, or Lola.  Looks like we'll have to plan another trip to complete the blog. Shouldn't be so hard now that we have a constant reminder.  For the rest of the weekend, anytime we'd turn a corner, CB would pipe up, "Papa A and WoWa's house?"