There is a little tract of land, approximately 1000 acres outside of Gladewater, TX known as Mrs. Lee's Daffodil Garden.  Each spring for roughly 6 weeks, this land is literally covered in Daffodils.  It is breathtaking. Throw in Daddy's little girl and, of course, it's heaven on earth.
This is our third year to take Miss CB for pictures, and this year was as spectacular as ever, not to mention blue clear skies and 70 degree temps.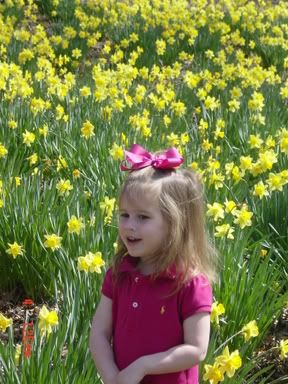 As you can see, it's no exaggeration to say you are engulfed by flowers.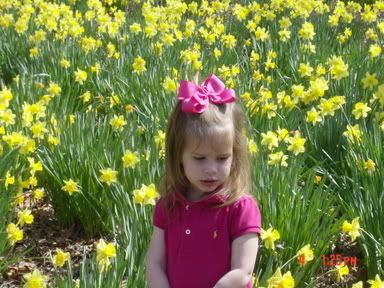 One of my personal favorites below…

Here is a link to the website for more info, if anyone is interested.  If you are ever in the area, I highly recommend a trip.  It's one of those special places that pictures can't do justice…
http://www.daffodilgarden.com/daffodils_home.htm
One last pic.  Daddy forgot to pack the blanket for the picnic, but it was such a nice day we decided to do some tailgating… East Texas Style:)