Miss CB is now officially "Big Time"  How else can  you describe her performance in her school's 24th Annual "Western Days" event? For the last week CB has come home from school singing what she calls Cowboy songs.  She'll mumble a few words softly and then explode with a Yee-Haw!!
I had no clue what was going on, and was beginning to worry that Mommy was abandoning CB and just left her watching Gunsmoke re-runs all day.
I was quickly informed that CB was merely practicing for her Western Days performance.
For CB's portion of the show, they had the 2 year old class stand on the front row, and then a Kindergarten class behind them.  Obviously, these people are professionals and realize that by having the 2 year olds and kindergartners together singing the same song, they'll actually get some sort of audible vocals out of the group.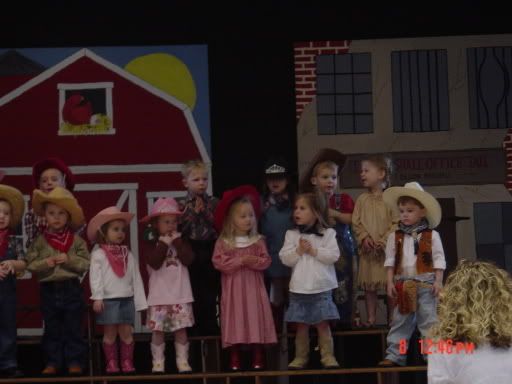 The most important things to remember:
1) CB did not cry
2)  She didn't fall off the bleachers
For the parent of a 2 year old performer…mission accomplished!