I practiced with CB, several times.  She knew it was Mother's day, she told me it was mother's day.  However, everytime I asked her what she was going to tell Mommy when she gave her our Mother's Day present, she responded with a loud "Happy Valentine's Day"  Hey, it's CB's world, I just check in from time to time.  Sure enough, she gave Mommy her present, a big hug, and loudly proclaimed "Happy Valentine's Day!!"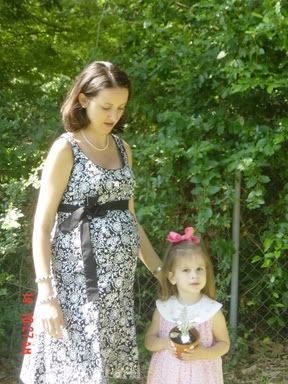 My lovely ladies.  CB is proudly displaying the plant she made for Mommy at school, hand decorated pot, of course.
What would a Haven's Mother's Day be without a little work on your short game…


After church, we went with Nana and Papa to Oak Forest for a Mother's Day Brunch. So Papa and CB had to get a little practice in.
And for CB's favorite part of the day…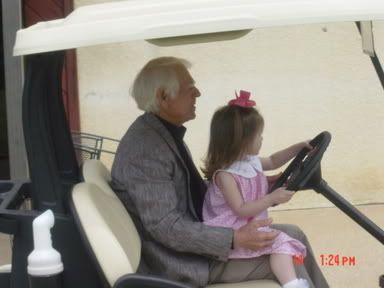 Nothing better than a Sunday Drive.  However, Papa and CB got a little out of control, so Nana had to jump in and supervise.


2 backseat drivers – get used to it Papa!!!