This past weekend we made a trip to Dallas, our last hurrah, as Al probably won't be up for any car trips for a while.
We had all sorts of plans for Friday, most of those starting after CB took a nap in the car on the way to Dallas.  However, a nap was not in Miss CB's plans.  She was so pumped about the "Hotel" that anyime we passed a large building, quite frequently in Dallas, she would exclaim, "Is that our hotel daddy??"  Followed quickly by a "Hi, Hotel!!"
I know, I need to get this little East TX girl out more often.  However, Al and I are no fools, so we headed directly to the Hotel.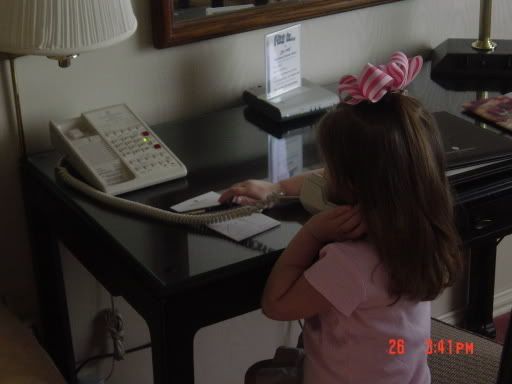 What is it with this girl??  I'm scared to even ask that question.  The first thing she ALWAYS does whenever we go to a hotel is find the phone.
Couldn't pass this one up.  Al got CB a new hat, pink..what a shock.  Needless to say, CB loved it.  Then she stops and says, "No, I wear hat like Daddy!!"

Pa Pa will be so proud.
We hit all the usual haunts, including a trip to North Park, CB's favorite.  Again, I don't even like to think about the bill$$$$ coming my way in the future…

To top it all off, a stop at the greatest eatery known to mankind.


What could be better, my favorite ladies along with my favorite burrito.  I know, I know…I'm such a sentimentalist, but I always get choked up about the "Big As Your Face" Burrito.