December 31st was one of those days that makes you proud to be in Texas. Sunny, warm, perfect. So, we decided to pack up the girls and head into Austin for the big show. First stop… Zilker Botanical Gardens.
My lovely ladies.
I thought this next picture of CB was great. Something about it looks almost fake, but I really dug it, so there you go.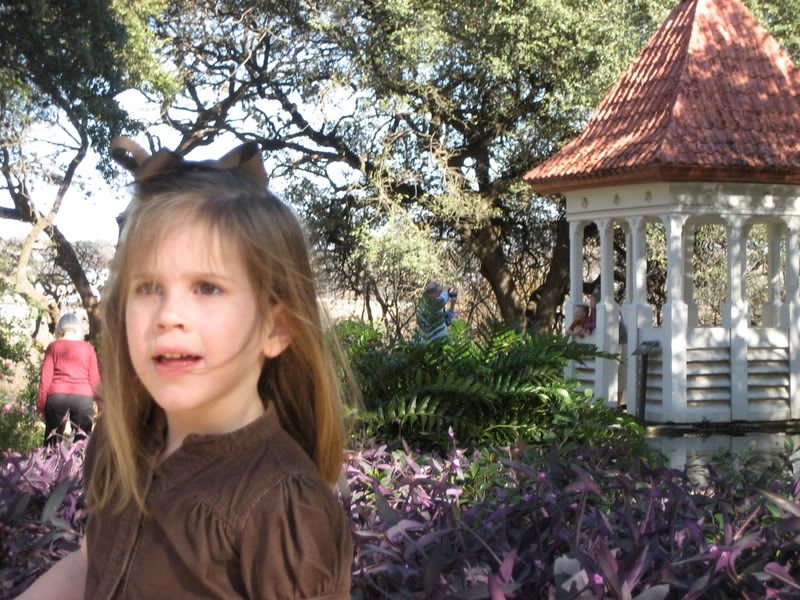 From there it was on to the famous Zilker train. CB had been harping about the train ride for the last year, and I had been promising we would go. Don't say I didn't keep my word, even if we did take us until the 31st to get there.
Protecting MK from the paparazzi on the train. I won't go into any detail about the middle aged lesbian couple in front of us on the train. Let's just say that the poor mother with three kids who let her son sit in the train car with the lovely ladies because all of the other seats were full. Well, let's just say that's what you call an education, Travis County style.
After the train, we were off to Chuy's for an early dinner. Nothing says New Years like a "Big as Your Face" Burrito. I'll spare you any pictures. Our next stop was downtown Austin for the celebration.
CB's favorite part – the fireworks.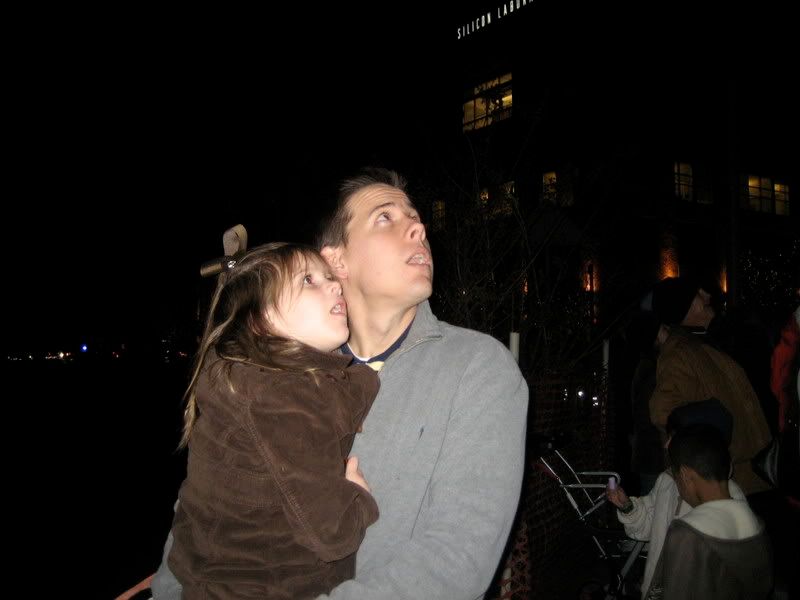 Genetics run hard in this family. You'll likely never see another pair of mouth breathers like that again.
MK was a little more dignified in her enjoyment of the fireworks.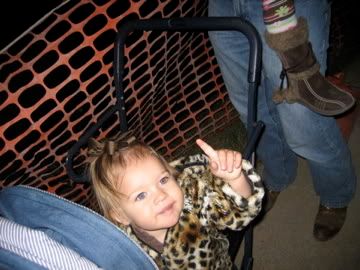 The train ride, Chuy's, a countdown to fireworks. This is where I should say good night and just wrap everything up…but I can't. I believe in full disclosure. And with full disclosure comes the part about port a potty's and orange shorts.
Let me back up. It was cold that night, and we were wandering across the First Street Bridge with both girls in the double stroller. We walk for what seems like an hour through the turkey legs on a stick makeshift food court and Al starts complaining that she has to go to the bathroom. Knowing a female can never do this alone, CB chimes in as well. I nodded toward the line of port a potty's surrounded by some of Austin's finest locals and I get a look of utter horror from both. At this point I tell them that there only option is the portable route or the Hooter's across the street – the only place that was open and happened to be right across the street. Easy answer.
A few minutes later, I'm doing donuts in the parking lot trying to keep MK happy while Al and CB have invaded the land of nude hose in search of a restroom. They come out shortly, and Al asks, "How much longer until the fireworks?" I tell her about an hour, and she says, "You know it's freezing out here. It was really warm inside Hooter's" I start to answer her about Hooter's and temperature, but then quickly think better and just nod my head and say "Yeah?"
Let me present my evidence for our Parents of the Year Award for 2007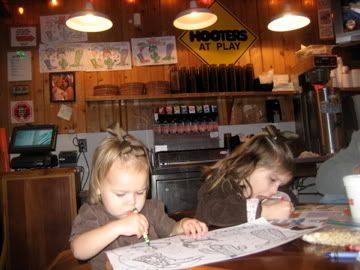 Hard at work. I never knew that Hooter's had such wonderful coloring books, or highchairs for that matter. Not to mention that CB now asks for Hooter's curly fries anytime the subject of restaurants comes up.
"It's flowing like mud around here. Hooh-rah somebody bring me a drink!"
So there you have it. Confession is good for the soul. And that's what the New Year is all about. Starting over and trying to keep your toddlers out of Hooter's. 2008 is looking up.