Baylor Homecoming was upon us again, and this year was special as it marked 10 years since leaving the place.  Actually, 10 for Alison only 5 for me, she has a thing for younger men.  Either way Homecoming could only mean one thing.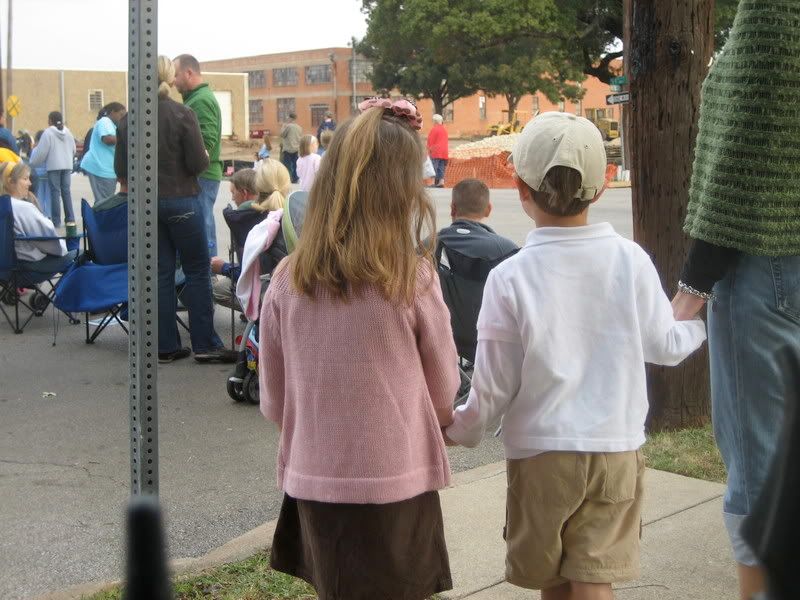 CB got to hook up with her Homecoming buddy, Graham.  You long time readers will recall that these two hit it off last year at the homecoming festivities, and took no time in getting reacquainted at the Parade.  For me, the best part was watching the running commentary between the little couple at the Parade.  It was a microcosm of male-female relationships the world over.
One of them would see a float approaching in the distance, they'd both get excited, then CB would scream something along the lines of "Look, Graham, it's a monkey!!"  To which Graham responded, "No, it's a Bear."  CB would look at him strangely and then declare, even louder, "Here comes the monkey, Graham!!!"
At this point I wanted to step in and tell the poor boy, "Look.  I know you're right.  You know you're right.  Everyone on this street knows your right, but you're dealing with a woman.  More than that, you're dealing with a woman whose mother is a McBride girl.  You just don't have a chance." 
However, I didn't need to.  Graham would simply look at CB, roll his eyes, look at the next float and say, "Look!  It's a plane."  The boy is wise beyond his years.
I got a brief exchange below in the video.
 [vodpod id=ExternalVideo.439699&w=425&h=350&fv=]
For some further details on the event, including the "Fixins' Saga" check out. http://www.aggbraunstein.blogspot.com/