As many of you know from previous posts, CB's all-time favorite vacation destination is San Antonio. Playing beauty shop, Annie, hanging out with her cousins, Annie, getting some time away from mom and dad, Annie…you're getting the point.
I'm starting to agree with her, this past weekend was a blast. To kick it off, I went to a Spurs game on Friday night. Mike is doing his best to sway me from my Mavericks – and with these seats, it might be working.
How good were the seats? Let's just say that if I wanted to get any closer I'd have to put on 6 inches and work on my outside jumper.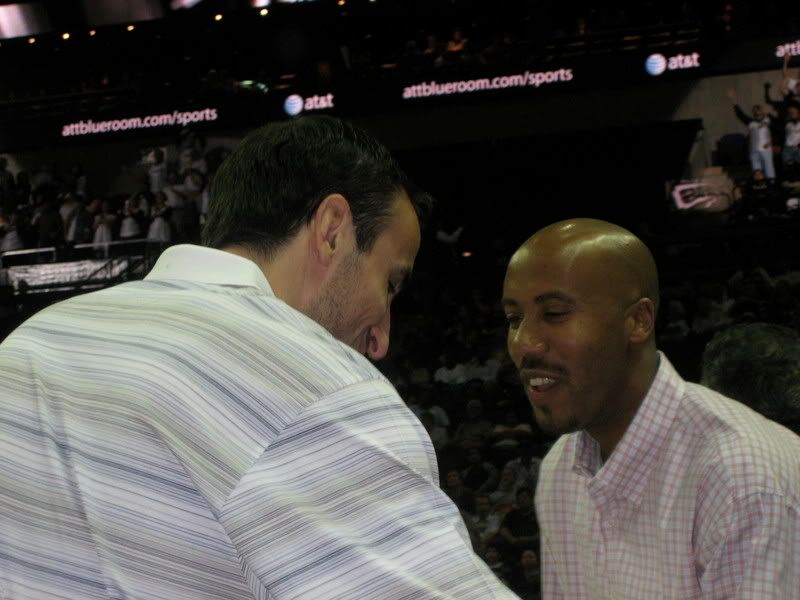 Manu and Bruce chatting it up.
Bruce Bowen has always known for his defense, and now you can see why. Dude's so slick he can fire off a peanut down the bench before anyone realizes what he's doing.
[vodpod id=ExternalVideo.437855&w=425&h=350&fv=]
How do you follow up the Spurs? The big race. CB was pumped. We headed out bright and early Saturday morning for a 5K, and when I say early, I mean early. I think it was an omen of things to come when I was trying to wake up CB for the race. It ended up with me laying on top of her and pulling her out of the bed by her ankles with her yelling, "No! Daddy! No!"
Once we got her up and going, she was ready to run, and I do mean run.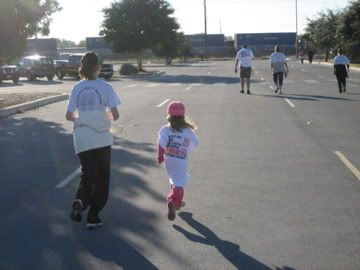 I had both girls in the stroller to begin with and thought it would stay that way. However, MK quickly feel asleep and CB was looking to win the race.
I was amazed, the girl booked it for at least a mile. As you can see in the picture, Mommy was working to keep up with the little phenom.
One of my favorites, my girls training with San Antonio's finest. There was a group of cadets from the SA Police Department in the race that kept a steady cadence going the entire time. CB loved it.
The best part, CB napped for a solid 3 1/2 hours that day and still slept like a rock that night.
Confirmed – Daddy is instituting a one mile run at daybreak for the girls. I'll leave the details to Al