And for once I'm not talking about my kids or dogs.  This one refers to me.  All my girls (Al included) worked together for a great Father's Day. 
Breakfast in bed – it doesn't get any better than that.  Except when the breakfast is donuts.  For obvious reasons, I don't eat donuts anymore, but is there a better food anywhere?  I'm going to check on it, but I think donuts are biblical – they've gotta be – you can go to any church in America and while they might have absolutely nothing in common – you can be sure to find donuts somewhere on the premises; it's the one thing everyone can agree on.
The rest of the day was great – wrapped up with Daddy's favorite – "Big as your face" Burrito at Chuy's and a homemade chocolate chip cookie cake.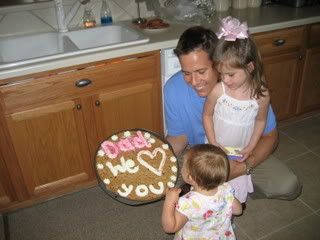 I'm not sure if Al is trying to spoil me or turn me into a pincushion, but either way it was worth it.