When you hang around where I do on a regular basis it's nice to get away for a while and visit somewhere nice…like Texas.
So, when the Bears were playing in Waco this weekend, a little trip north for some tailgating was in order.  The only thing that concerned me with the tailgating is that the smallest members of the crew seemed to be quite experienced
Everybody knows preparation is the key.
Maybe a little too experienced.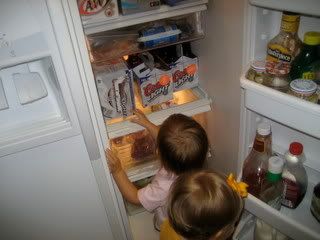 Good thing the baby sitter was there to keep an eye on things.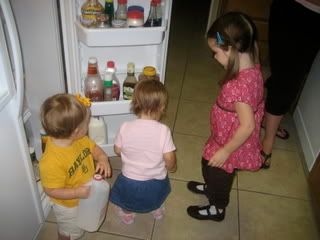 "Just keep cool, Maddy.  This happens all the time.  Ignore her and she'll go away."
Finally, the big game.
 Thanks to Molly and Shane, and of course the fine folks at Central National Bank, we had a great time with all the pre-game festivities.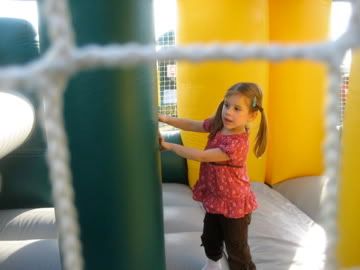 CB is an old pro at Touchdown Alley after last season and wanted to hit all the stops.
This year we ventured over to the face painting and tattoos.
Do you know how hard those things are to get off?  CB's came off no problem, but I scrubbed for 2 days to get that @#$#% claw off my face.
It's just not tailgating without dusting off the throwing arm. 
Huddle up – everybody take a knee.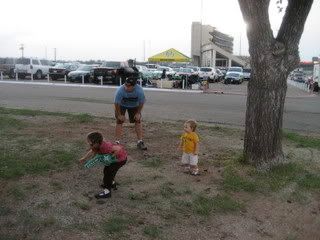 The Rieger family has quite the speed in the backfield.
Even with all the activity around her – MK knows the real reason for tailgating.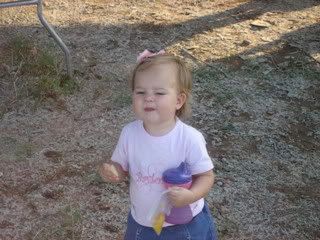 CB and I did manage to make it into the game and it never dawned on me that this was the first time she had ever actually been to the game.  Needless to say, the girl is a Bear for life.  She was completely enthralled.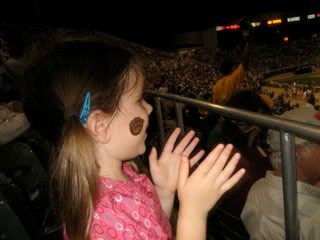 I didn't know if it would be the band, the fireworks, the cheerleaders or what that CB was so infatuated with.  Wrong.  CB saw the twirlers on the field and then later saw one walk past us and she was speechless – quite a feat for her.
She kept pointing at them and finally exclaimed, "Daddy!  I want to be a princess!"  I don't know if it was the costume, the makeup, but whatever, CB was convinced they were princesses.  Baylor princesses – do they have scholarships for that?