As you know from the prior Pink-a-thon, we already celebrated CB's 3rd B-day.  However, when her actual b-day rolled around, we thought she might be confused about having her party one day and then the real b-day on another day. 
Not so…in fact, CB wouldn't even let me explain. The only thing she heard was "Caroline blah blah blah MY BIRTHDAY."  Needless to say she was pumped.
And what did we receive around lunchtime???  A B-day cookie bouquet from Aunt Molly and Uncle Shane!!!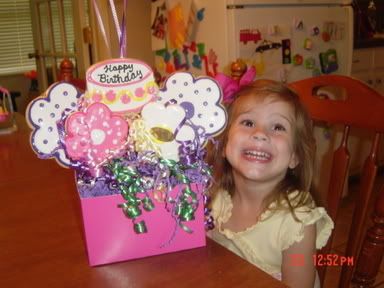 As you can see from her dreary mug, she did not like it one bit.
I was home by myself that day for lunch with CB.  I finally managed to get a sandwich down her before diving into the cookies.  After picking which cookie to eat, a chore unto itself, I unwrapped the cookie and slid it over to CB on the table, and she just stared at me with a look of sheer terror on her face.
After much discussion, CB informs me that this is HER BIRTHDAY, and she will not eat a cookie off the table.  It must be on a Strawberry Shortcake plate, along with matching napkin!!!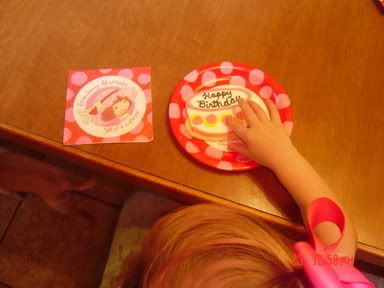 You think I'm kidding?  I wish I were.  She would not touch the cookie until the table was set to her satisfaction.  Like I said earlier, I'm just a lost traveler in this world.