A new Princess made her arrival on July 3, 2006 at 4:19 p.m.  Weighing in at 7lbs and 11 oz. and 19 1/2 inches long, Mary Kate Havens has already changed all our lives, including former only child, Miss CB.
From the beginning…
We arrived at the hospital around 7:00 Monday Morning to get this whole process started.  Al was having some pretty solid contractions by mid-morning, and was in considerable pain.  Enter the CRNA.
I now know why my brother Billy is so popular – forget diamonds – epidurals are a girl's best friend.


Classic photo of a woman in the throes of a horrible labor, "Hang on I've got another call coming in…"
After several more hours, MK made her appearance!!


MK at the ripe old age of 10 minutes… You've gotta love those annoying fathers who can't wait until the baby's hardly even taken her first breath before whipping out the camera.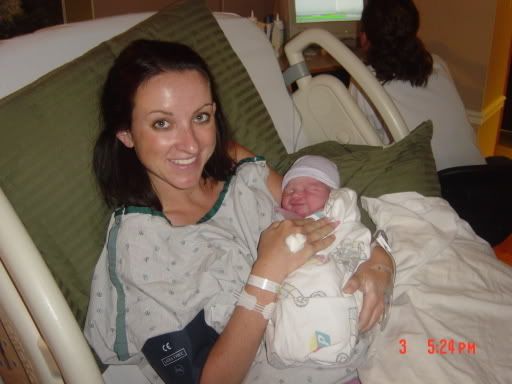 As I'm sure you know, I'm giving the Cliff Note's version of the labor.  It was much more involved, and Al was a real trooper throughout the entire thing.  If labor was something that Daddy had to handle, well, you wouldn't be seeing any of these pics of Miss CB or MK.


I had to include some pictures of our incredible "Birthing Team" with the fruit of their labor.
Nana Jane and PaPa were in for the long haul, and were involved in the entire birthing process.  We couldn't have done it without them.  Between the two of them, I honestly don't think there's anything about birthing babies that they don't know.

Big Sis is on the scene!!!  MK was in the nursery when CB arrived, so she kept a constant vigil on her new little sis'. 
And once the first meeting finally did happen…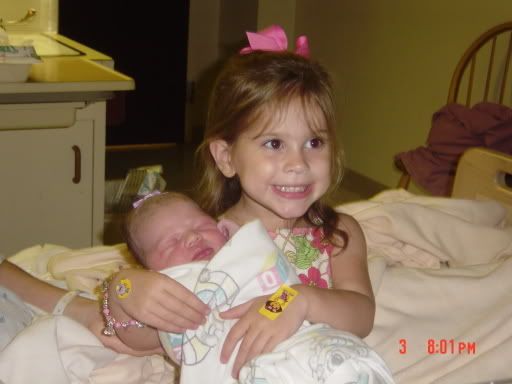 "No, No Daddy! You stay back.  I hold Mary-Cake!"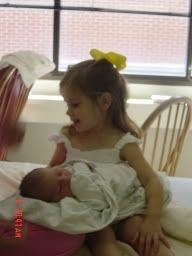 CB is quite the little mommy!! 
She's also quite the supervisor.


CB's giving Nana some tips on holding Mary-Cake.
Between all this work, CB did have some time to spend with Mommy as well…


All in all, a long day, and Al is the one that did all the work.  I've been fortunate enough to experience this twice, and I wish I could put to words the impact that it has on you; but actually seeing God's hand at work through a new life entering this world is a miracle that is far beyond any of my feeble attempts at description.
So, I'll just leave you with a picture.  Trust me, you're not going to find a happier man around…