The blog has been temporarily taken over by MK madness, but I had to post these from a week ago.  CB and I had our first date, and to the movies no less.  First time Daddy had been to a movie since before CB was born, and the first time ever for CB.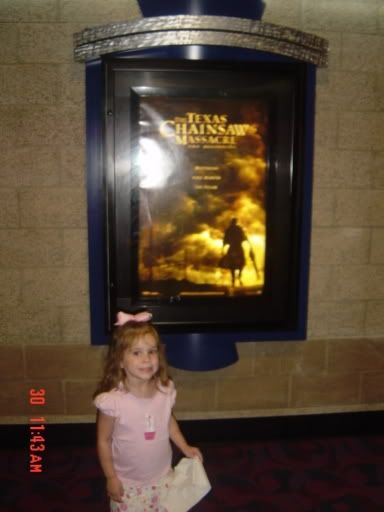 Al was not thrilled with my choice of movies, but I told her that with a newborn coming we wouldn't be sleeping anyway; so what's the difference if CB had a few nightmares?
Just Kidding!!!  But I couldn't resist, this was just too good a photo op to pass up.
We actually went to see "Cars", and I think Daddy might have enjoyed it more than CB.
I tried to prepare CB for the theater explaining that it was a big screen with lots of chairs, and that all the lights were off…


Good job Dad.  As usual she didn't even hear my speech.  The only thing this girl was worried about was running out of popcorn.
We had a wonderful time, and made it through the whole movie!  Although CB wants popcorn and candy next time.
One last stop in the lobby, inspired by the flick, and then off to fill in Mommy on all the details.