It seems like yesterday.  Living in a raccoon infested house, studying for the bar 19 hours a day with an extremely pregnant wife, who was ready to go at any time.  In fact, I still think about those days occassionally, usually accompanied with cold sweats in the middle of the night.
However, it was more than worth it when we came home with this little princess in the midst of a hurricane.  Should've been a sign of things to come.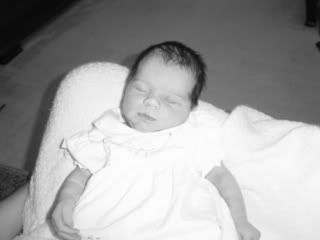 And now, for fear of sounding like the old man I'm slowly becoming, it's hard to believe my baby girl is growing up.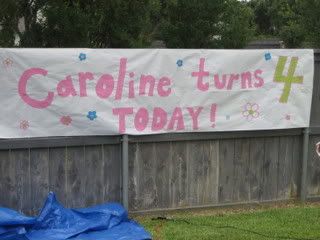 Nice artwork.  You know the saying: once an elementary school teacher always…
 After much prep work – the back yard became the setting for the Barbie Beach Party of the Year – all CB's idea of course, complete with the water slide.
Set for launch…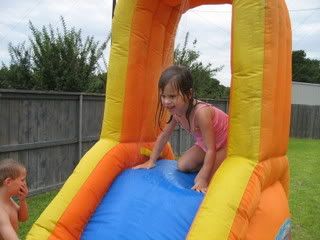 We made it through without too many serious injuries – which is nice.  I wasn't too sure how well my waiver would hold up in court.  I still think 4 year olds are old enough to sign a binding contract – but that's another problem altogether.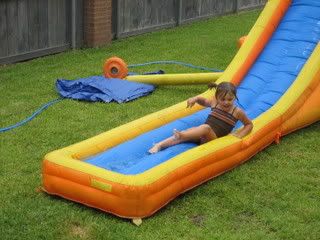 Mary in action.
Even the younger ones got in on the fun.  MK made sure Maddy joined her in the pool.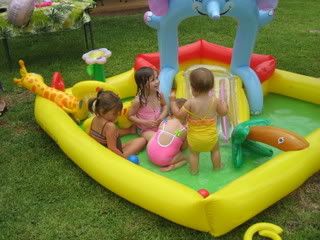 Couldn't be a Barbie party without the appropriate cake.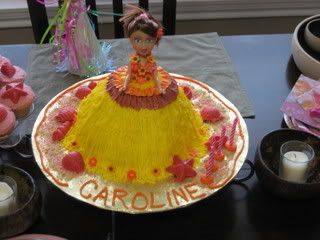 And of course, CB keeping an eye on the cake consumption.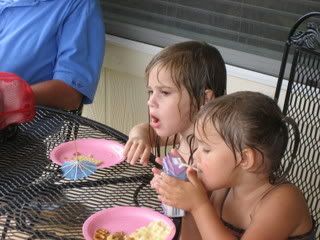 Big sister wasn't the only one enjoying the food and festivities.  MK used all her feminine wiles on the older men at the party in hopes of scoring some food.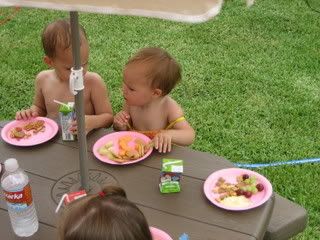 "Hey, kid.  You gonna eat your tots?"
My favorite picture of the day… CB got a Barbie bike for her birthday – notice a theme anywhere?  She was pumped about the bike, but more importantly, she was absolutely stoked about the matching helmet, knee pads, and elbow pads – all Hot Pink and Purple.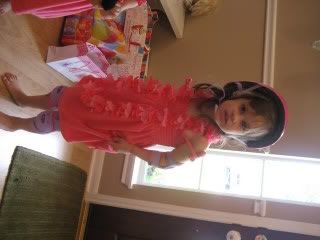 Safety Joe.