Al and I  have been married for over 10 years, and have never been on a real vacation.  We've also never left the girls alone before.  So, you know it's got to be something big to get us to Mexico for 5 days.
Billy getting married…that's big enough.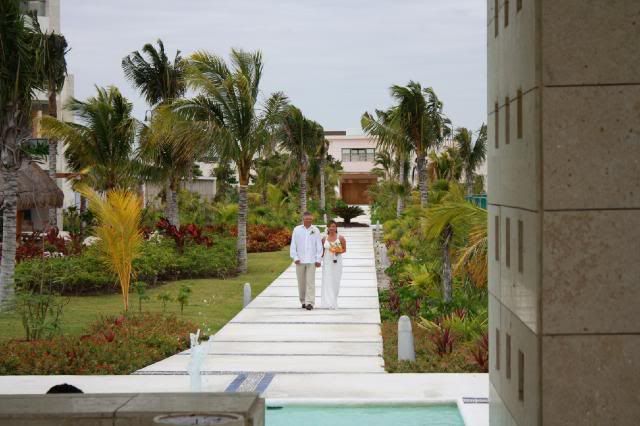 Quite a walk down the aisle…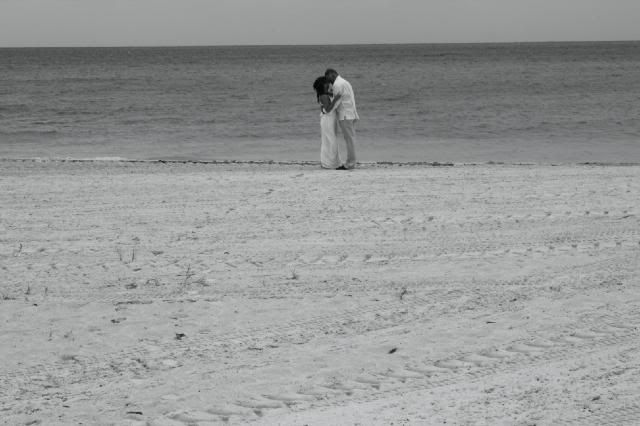 As you can tell, I brought the new camera along.  I'm done with this whole lawyer gig…I'm going into photography full time.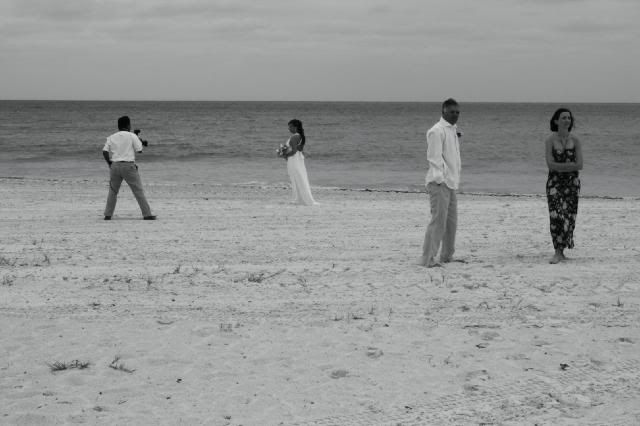 Exploring my artsy – behind the scenes vibe.  The wedding was incredible.  Al and I decided we did this way wrong the first time.  This was definitely the way to go.  Show up 5 mintues before hand and everyone takes care of everything.   Now, as for Playa Mujeres – unbelievable.  WARNING tons of pictures to follow…
The view from our window.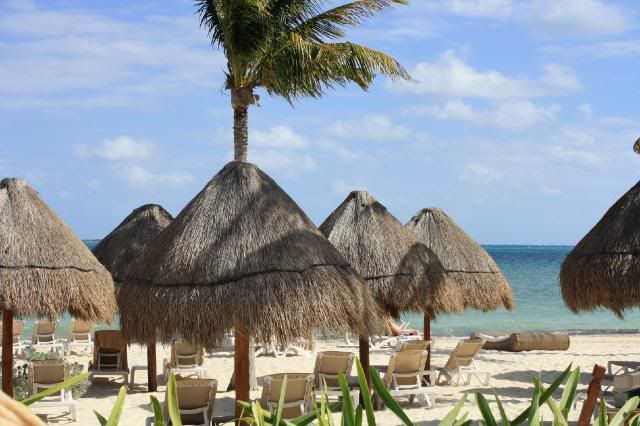 The beach, just a few steps from the pool, and including a complete wait staff.
The swim up bar.  In short, I need one of these.  But don't try to dive over the bar after it's closed.  The marble is very slippery and the resort staff isn't so appreciative.
One of the dozen or more restaurants in the resort.  This one was actually located above the swim up bar.  We averaged at least 2 restaurants a night for the entire trip.  Wine, escargot, quiche at the French house, then stroll over to the Italian restaurant for entrees.  I ran five miles a day on the beach every morning we were there and still came home fatter.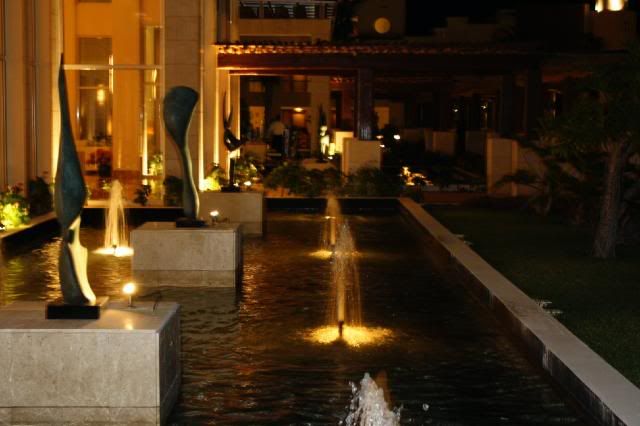 The spa.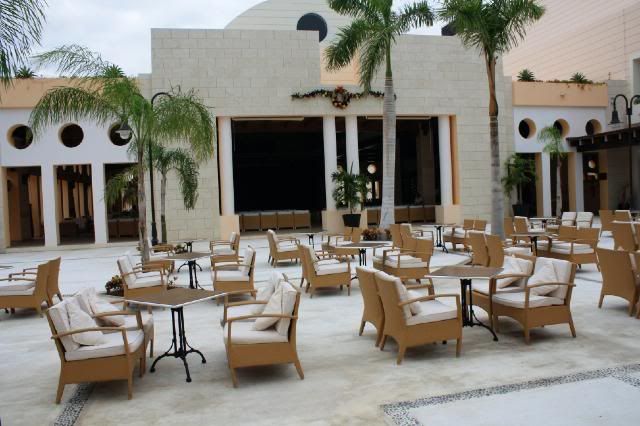 The picture below was one of my favorites.  This incredible outdoor longue right on the beach.
Proof that Al and I were actually there.
Sure, they look comfortable but the process of actually getting in one those things involved 2 hours, 3 lifeguards, and one broken rib.  I decided to just stay there for the evening.
Our room was amazing.  Huge four poster bed, a shower the size of our bedroom back home and a back patio to die for.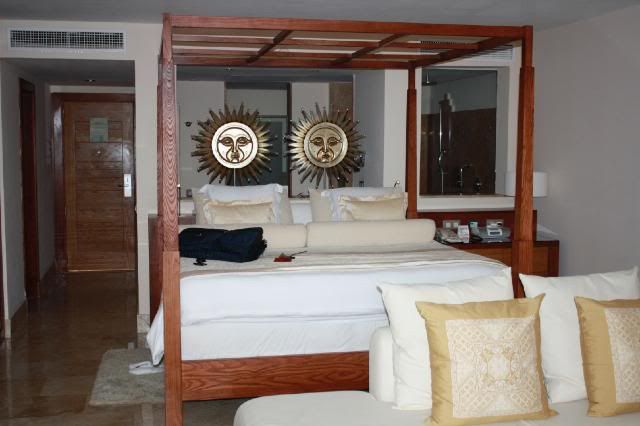 I wasn't the only one that hit the swim up bar, but somehow I think I got the short end of it.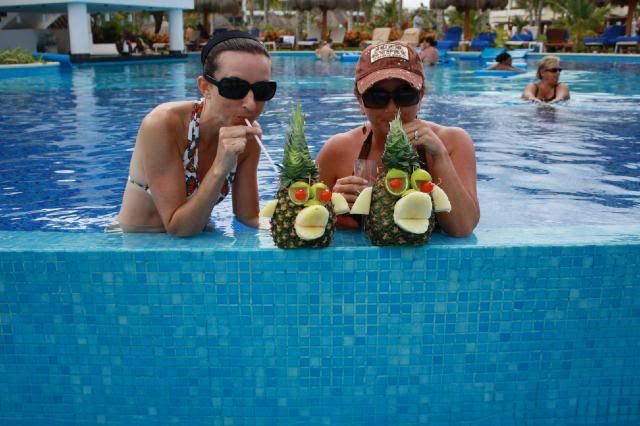 Seriously, I'm not even sure how you begin to order one of those.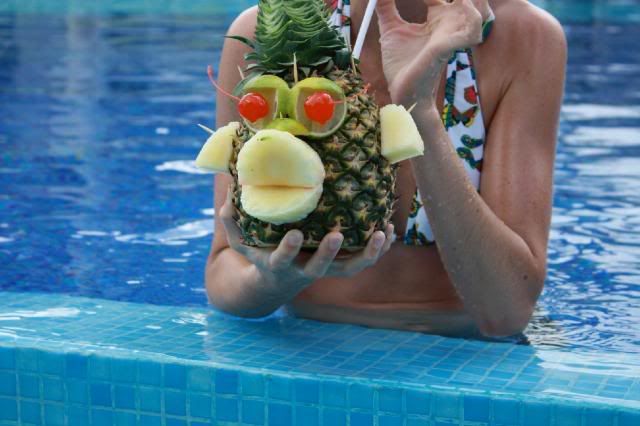 Now, I know many of you were concerned, Olive, and rightfully so about the problems of taking Al to Mexico.
I still thought we were safe until…Fransisco!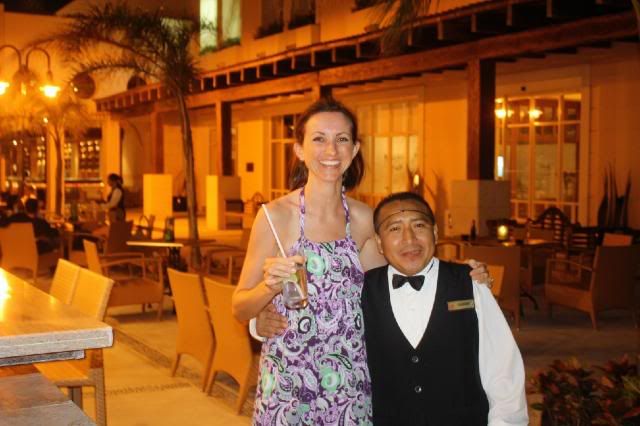 Al was trying to smuggle Fransisco back home in her carry on.  Almost made it.
Not to be outdone, I decided to out-salsa these boys at their own game.
Look at that dude's eyes.  He knows he can't handle the Havens' heat.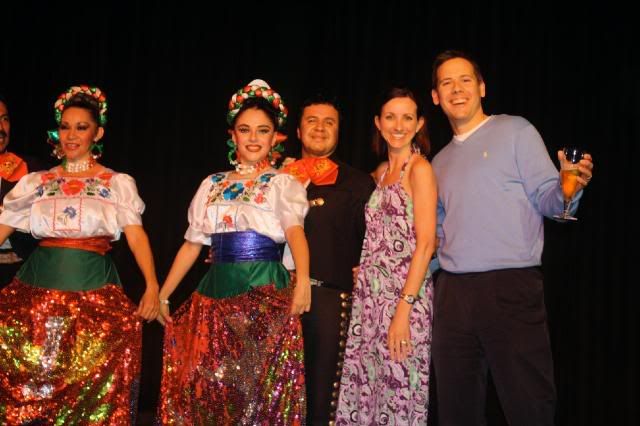 Luckily, Al came to his rescue.  Now, I don't want you people getting the wrong idea.  I would normally never, ever go to the type of show you see in the pics above.  This was all a big conspiracy.  Al, Billy, Kristie – they were all in on it.  I was told it was a pirate show.  A pirate show.  That's low – you can't take a man to a pirate show and then pull out the mariachis.
Of everything we experienced, I would have to say that my favorite was the following.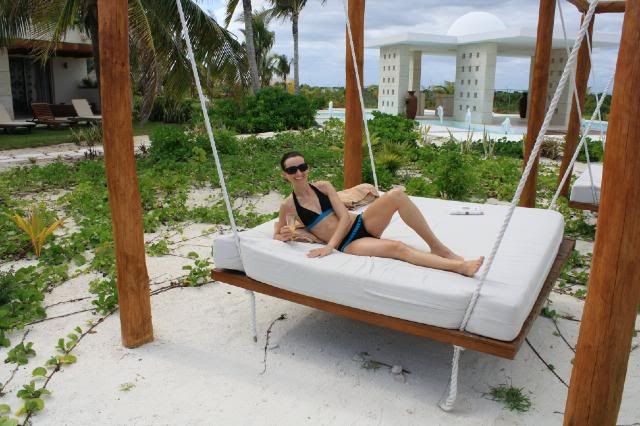 I don't know what you call these things…heaven?  Essentially a queen size mattress suspended from above.  It's like bringing your bed out and throwing it in a hammock.  I think we spent about two days total in one of these.
It really was a toss up.  I might have chosen the following as my favorite, but I never could figure out where you put in the quarters…