CB is obsessed with Santa/PaPa.  She calls all Santas PaPa, just to clear up any confusion.  To make things even more confusing, we went downtown this past weekend with my parents to see the holiday festivities.  So we had CB telling my dad all night, "PaPa we're going to see PaPa."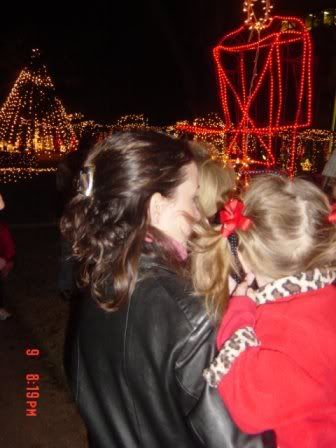 The entire courthouse sqaure was lit up and Santa had a house there as well to greet everyone.  CB was stoked to say the least.  All she could talk about was seeing Santa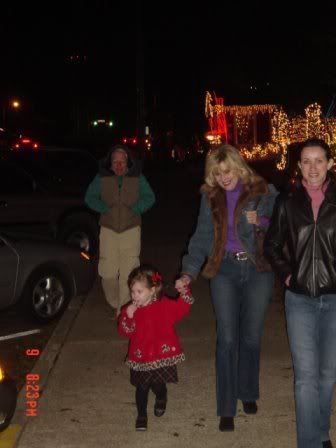 As you can tell it was very cold that evening – and the real Santa/Papa didn't take it too well…
Now, when it actually came time to see Santa, and sit on his lap, CB's enthusiasm waned.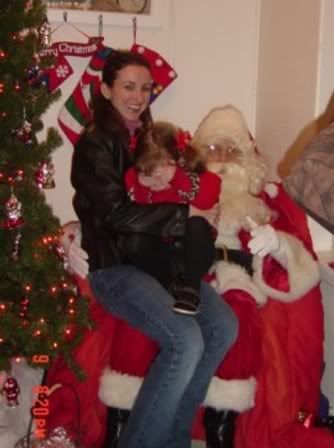 Both eyes shut tight!!!  Can't even bear to look at this strange, fat man in the red suit.
And when Santa actually spoke to her…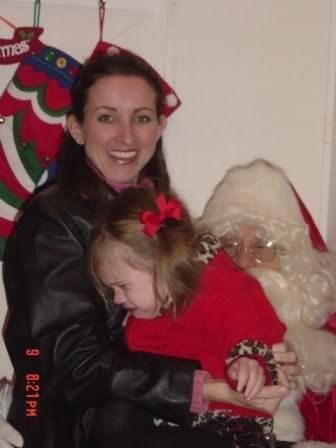 Turn on the tears, grab the real "PaPa" and get me out of here!!!
Of course, this is my daughter we're talking about, so, for the rest of the evening and the next day, she talked all about Santa and how happy she was to see him.  And if anyone asked her whether she sat on Santa's lap, she would respond with an enthusiastic yes and tell you all about her lovely visit.